"Bitcoin (BTC) is dead". This idea quickly spread through the ranks of investors a few weeks ago when cryptocurrency prices were very low. In this context, which was relatively difficult, many investors nevertheless managed to generate significant income. So claimed CZ, the CEO of Binance.
The collapse is not at the rendezvous
According to Binance CEO Changpeng Zhao, when in everyone's mind, "bitcoin is dead", the queen of cryptocurrencies is doing great things. In a post on Twitter, he claimed that this perception that many people had for a certain period of time helped to scare away investors who had no confidence in the digital asset. Somehow there was a market cleansingnow giving way to real investors confident in the future of BTC.
" Historically speaking, if you had bought bitcoins every time there were "bitcoin is dead" headlines, you would have done well. Logic: when they lose hope, that's where the bottom is "CZ wrote. The CEO, however, said he does not support the idea that the bitcoin (BTC) will crash and " will die ".
$20,000 is BTC's new $30,000
Currently, the king of cryptocurrencies is trading at around $20,440be one 15% increase from its June 18 level ($17,708). Several investors and cryptocurrency companies have acknowledged that they are taking advantage of this period to buy BTC and store it, while hoping that its value will resume a bullish direction soon.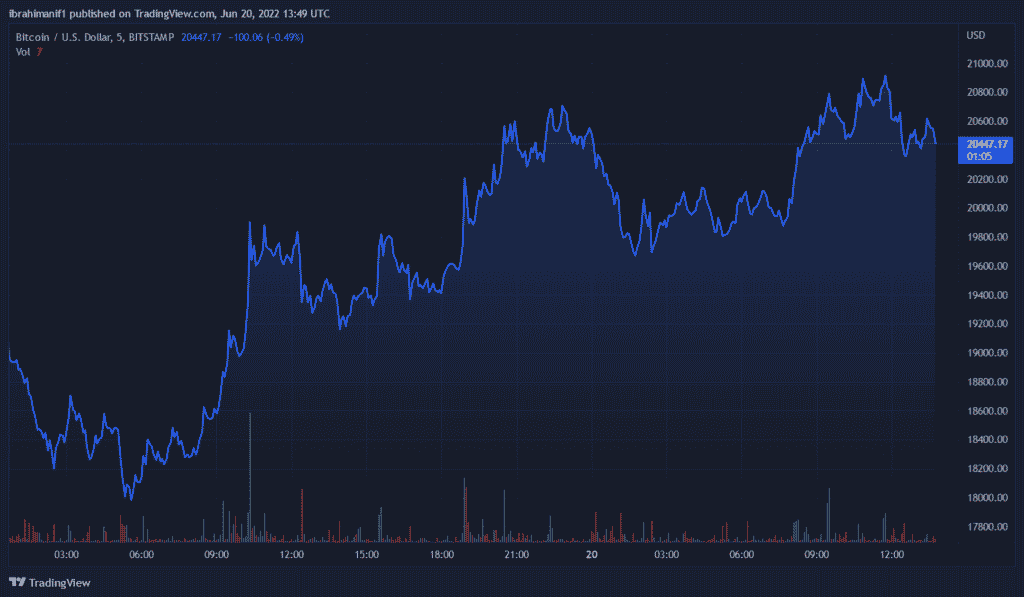 What are the predictions for the future? In the ranks of professionals, it is still difficult to define exactly the direction that the queen of cryptocurrencies will take in the days to come. That said, for Peter Schiff, it is important that investors do not rejoice when BTC will go back above $20,000. According to him, "$20,000 is the new cryptocurrency $30,000."
Mr. Schiff also stated that it is very likely that in the future there will be small increases. However, these price increases should not be the reason why investors return to the king of cryptocurrencies.
Is bitcoin (BTC) more profitable when investors are scared? The answer to this question is "yes" according to Binance CEO. He believes that it's when everyone thinks "bitcoin is dead" that the queen of cryptocurrencies reveals its full power.
Source : NewsBTC
Receive a digest of news in the world of cryptocurrencies by subscribing to our new daily and weekly newsletter service so you don't miss any of the essential Cointribune!
CT writing
Behind the generic signature "Redaction CT" are young journalists and authors with specific profiles who wish to remain anonymous because they are involved in the ecosystem with certain obligations.
function launch_linkedin_pixel() { _linkedin_partner_id = '3766114'; window._linkedin_partner_id = '3766114'; window._linkedin_data_partner_ids = window._linkedin_data_partner_ids || []; window._linkedin_data_partner_ids.push(_linkedin_partner_id); (function(l) { if (!l){window.lintrk = function(a,b){window.lintrk.q.push([a,b])}; window.lintrk.q=[]} var s = document.getElementsByTagName('script')[0]; var b = document.createElement('script'); b.type="text/javascript";b.async = true; b.src="https://snap.licdn.com/li.lms-analytics/insight.min.js"; s.parentNode.insertBefore(b, s);})(window.lintrk); }
void 0 === window._axcb && (window._axcb = []); window._axcb.push(function(axeptio) { axeptio.on("cookies:complete", function(choices) { if (choices.google_analytics) { launch_google_analytics(); } if (choices.facebook_pixel) { launch_facebook_pixel(); } if (choices.Linkedin) { launch_linkedin_pixel(); } }); }); window.axeptioSettings = { clientId: '60df16cf7559213aac28972d', };