Less than three months after launching the S19XP antminer at the World Digital Mining Summit in Dubai, Bitmain is back with the S19 Pro+Hyd. This new model incorporates a liquid cooling and sound absorption system.
198 TH/s under the hood
The S19 Pro+Hyd antminer is Bitmain's most power-hungry machine. It consumes 5445 watts and produces 198,000,000,000,000 hashes per second. Let's round up to 200 TH/s.
It may seem like a lot, but only on the surface. The justice of the peace is the energy efficiency of the machine. That is to say the number of watts consumed to produce a TH. We are at 27.5 W/TH against 21.5 W/TH for the S19XP or 30 W/TH for the classic S19 Pro.
In other words, the S19XP remains the most efficient machine. For comparison, the lower model T19 displays a much lower energy efficiency of 37.5 W/TH. We were even at 273 W/TH with the model S7 from 2015 and 832 W/TH with the S3 from 2014…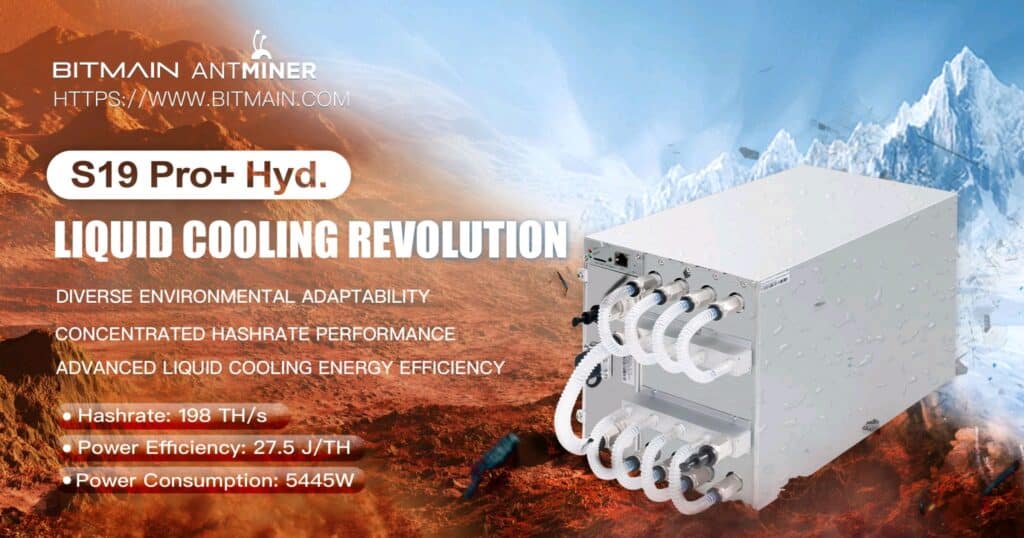 The biggest advantage of this 17.5 kg baby is certainly its integrated cooling system which probably guarantees more stable performance and, above all, eliminates the din that traditional machines make. Ideal for those who live in an apartment.
The "liquid cooling" system also extends the life of the machines, which helps to maximize their profitability. How long remains to be seen…
The S19 Pro+Hyd is also designed to fit into the container ANTSPACE HK3, very popular with professional miners who want to be able to change air very quickly. Recent events in China as well as in Kazakhstan are there to remind us that this kind of flexibility is far from useless…
Overall, those looking for the best profitability will prefer to buy S19XP. Nevertheless, this new range of antminers remains very interesting. Especially if the price of bitcoin were to approach $100,000.
All that being said, the big news this week is above all the arrival of Intel on the bitcoin mining market!
The official announcement will be made at the ISSCC conference which brings together the processor industry's pundits each year. This year, Intel plans to introduce a new "Bonanza Mine" processor on February 23. This new processor is described as a " Ultra-low-voltage, low-power bitcoin mining ASIC". Raja Koduri, Intel's GPU manager, had already spilled the beans last December during a interview.
Bitmain, which currently controls nearly 70% of the market, has a lot to worry about…
Nicolas Teterel
Journalist / Bitcoin, geopolitics, economy, energy, climate