The end of 2021 was not good for Terra (LUNA). Indeed, cryptocurrency has lost value. However, from January 9, 2022, its price started to climb. Did this uptrend stay that way for the days that followed? What does LUNA promise for the future?
A noticeable uptrend
A study of the value of LUNA over the past few days has allowed analysts to see a bullish trend. The digital asset has seen its value to grow to new heights. However, this momentum has not been maintained over the long term. A few hours after its rise, the price of the cryptocurrency returned to the bottom.
Concretely, LUNA had gained 5% on its value a few days ago. In the past 24 hours, its value has risen to $83.2, leading experts to believe that the bullish momentum is truly underway. They also think that this time, it will not experience a decline. According to them, LUNA could go up to 84.3 dollars, as the graphs seem to indicate.
On this graph, we can see that the volatility at the level of the Bollinger bands is falling. Indeed, the intermediate line of the indicator is located at 81 dollars, while the volatility remains on the rise. Experts conclude that the cryptocurrency will strengthen its value in the coming months.
Terra Price Analysis on a 4-Hour Scale
A short-term analysis on a 4-hour scale reveals a bullish trend in the price. Predictions over a 4-hour period indicate that Terra (LUNA) could reach a value of 81 dollars. At the lowest level, this value could be 80 dollars, if we stick to the analysis of the Bollinger bands during the defined duration.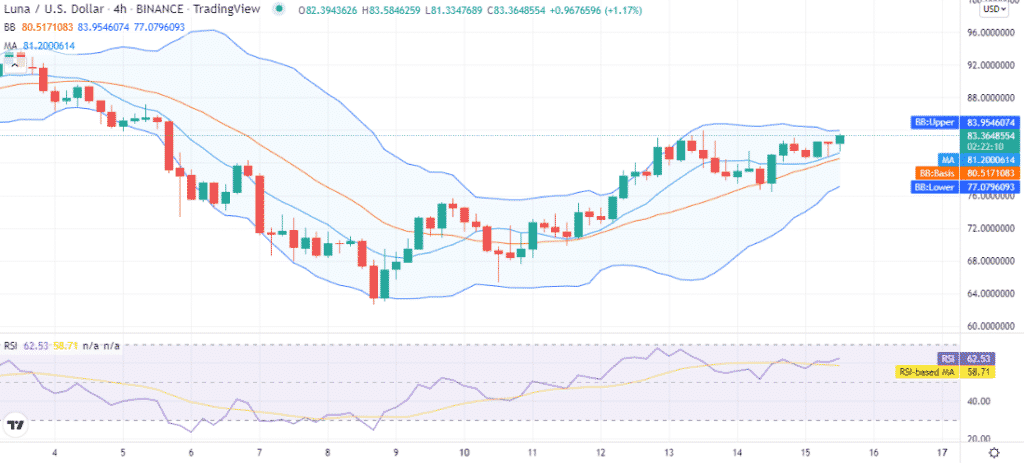 The LUNA cryptocurrency is on the right track. After a downward trend, it is now positioned in the rank of electronic currencies to watch closely due to the growth of its price. If this momentum is indeed maintained over the long term as the experts predict, there is every reason to believe that many investors will pay particular attention to the asset. LUNA promises great prospects in the future, provided nothing changes.
Source: Cryptopolitan
Receive a digest of news in the world of cryptocurrencies by subscribing to our new daily and weekly newsletter service so you don't miss any of the essential Cointribune!
Luc Jose Adjinacou
Far from having dampened my enthusiasm, an unsuccessful investment in 2017 on a few cryptos only increased my enthusiasm. I therefore resolved to study and understand the blockchain and its many uses and to relay with my pen information relating to this ecosystem.