Hackers hacked into the Indian Medical Association's Twitter account. Then they renamed him to 'Elon Musk' and from that account they performed a mass cryptocurrency scam. Was their strategy successful? Yes. Indeed, they made several victims.
Elon Musk impersonation
On Sunday January 2, hackers hacked into the Twitter accounts of three major institutions: the Indian Medical Association (IMA), the Indian Council of World Affairs (ICWA) and the Mann Deshi Mahila Bank. The latter is a bank that supports micro-entrepreneurs. After successfully hacking the accounts of these organizations, the crooks selected an account which they renamed "Elon Musk".
They have impersonating Elon Musk and have posted numerous posts on his behalf. Concretely, they used the hacked accounts for the purpose of promoting cryptocurrency and even responded to messages claiming to be "Elon Musk".
According to experts, it could be that the hack was successful because users of different accounts have clicked on malicious links. Others believe that it is because there has been a compromise in the passwords of the various accounts. Either way, the Indian World Affairs Council (ICWA), chaired by Venkaiah Naidu, quickly stepped up to the plate to resolve the issue. This does not prevent however that the tweets published by the hackers are still visible on the social network.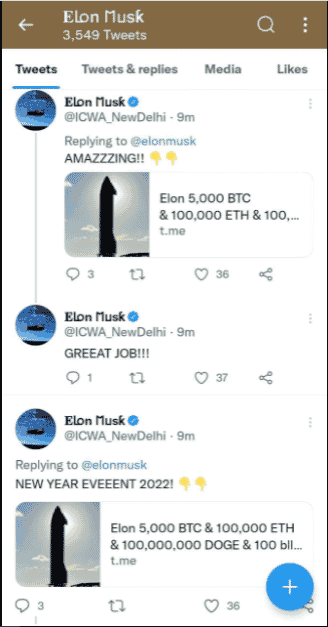 A case that is not isolated
This is not the first time that such an attack has taken place in India. Indeed, last month, hackers had succeeded in hack the official Twitter account of the prime minister of the country, Narendra Modi.
The crooks had used this account to promote a bitcoin donation scam (BTC). They had claimed that India was going to officially adopt BTC as legal tender. Moreover, in their tweet, the scammers claimed that the government "has bought 500 BTC and is preparing to distribute them nationwide".
Hacker attacks targeting the accounts of personalities and major institutions on social networks are becoming more and more numerous. In 2020, cybercriminals had already attacked the accounts of Elon Musk, Barack Obama, Bill Gates, Jeff Bezos and several leaders in the cryptocurrency industry.
In India, hackers are determined to make the cryptocurrency industry a favorite area in which they can thrive. After hacking the country's Prime Minister's Twitter account, they attacked the accounts of three institutions. Then, by stealing the identity of Elon Musk, they promoted cryptocurrency and managed to defraud several people who had fallen into the trap.
Source: CryptoPotato
Receive a summary of the news in the world of cryptocurrencies by subscribing to our new daily and weekly newsletter service so as not to miss any of the essential Cointribune!
TCT writing
Behind the generic signature "TCT editorial staff" are young journalists and authors with specific profiles who wish to remain anonymous because they are involved in the ecosystem with certain obligations.