A historic performance. It is in these three words that we can summarize the sales made by LooksRare three days after its launch. The platform has indeed made a turnover of 394 million dollars in NFT just three days after its launch. On the first day, the digital assets were sold to the tune of $100 million. But, this new platform, what is it? Let's take a closer look at its LOOKS token. What is the relationship between LooksRare and OpenSea? What future for LooksRare on the NFT market?
What is LooksRare and its associated token LOOKS?
LooksRare is an NFT platform that has recently emerged. The site started its activities on January 10, 2022 and presents itself as a real alternative to OpenSea. Through its slogan "By NFT People, For NFT people". In other words, the site is intended by and for NFT users.
The start of LooksRare's activities was done with the airdrop of LOOKS, the platform token. From its launch, its sales led to the fall in sales of OpenSea. Thanks to its options, its offers and many others, several users of competing platforms have migrated to LooksRare.
The strategies used worked rather well since on the first day, the platform achieved sales of 100 million dollars. The trend has not stopped since three days after its launch its turnover already amounted to nearly 400 million.
The LOOKS token allows a certain number of transactions to be carried out on the platform. You can use it to place bets and hope to get a 1000% annual APR. On the chart, this token has already managed to break above $4 reaching an APR of over 750%.
This very strong start considered as a "vampire attack" made the joy of some detractors of OpenSea. They wanted to see another platform appear on the market. Better, LooksRare presented itself rather as a serious competitor.
However, there is nothing surprising enough. The plan of attack had been thought out several months in advance. The advent of this platform on the market is also a delight for users who wanted the decentralization of certain OpenSea operations.
NFT: A private property of OpenSea?
OpenSea is a website that focuses mainly on sales and the world of NFTs. And to get there, the platform invested $300 million for its launch. Its market value is now estimated at $13.3 billion. Today, several platforms create their own tokens which they make available to their users on the platform.
Among them, there are some that have placed particular emphasis on NFTs. This is indeed the case of OpenSea. Devin Finzer, its co-founder, wants to invest the capital raised to develop its platform. The funds will be used to hire staff. His desire is to make OpenSea the main platform operating in the field of NFTs.
This need to develop the field of NFTs stems from an observation made in 2021. According to his observation, people give a prominent place to NFTs in peer-to-peer economies. For the co-founder of OpenSea, the advantages offered by non-fungible tokens allow developers to design applications. These applications offer their users significant economic values.
What future for LooksRare on the NFT market?
The figures produced by LooksRare show a constantly growing activity. In 2021 the turnover was up. In the third quarter, NFT sales crossed the 1.5 billion euro mark.
LooksRare's good figures come in particular from the platform's policy with its very attractive fees. These fees depend on the type of transaction you wish to make. At LooksRare, only a 2% fee is charged to users when they make basic sales.
Also, you are not charged any fees when you make private sales using NFT coins. However, regardless of what form of trade you make, OpenSea will charge you the 2.5% commission fee.
The fees applied portend a bright future for LooksRare when you know that a company that offers low rates usually manages to attract the attention of many investors. In addition, on LooksRare, NFT users are often rewarded for their activity.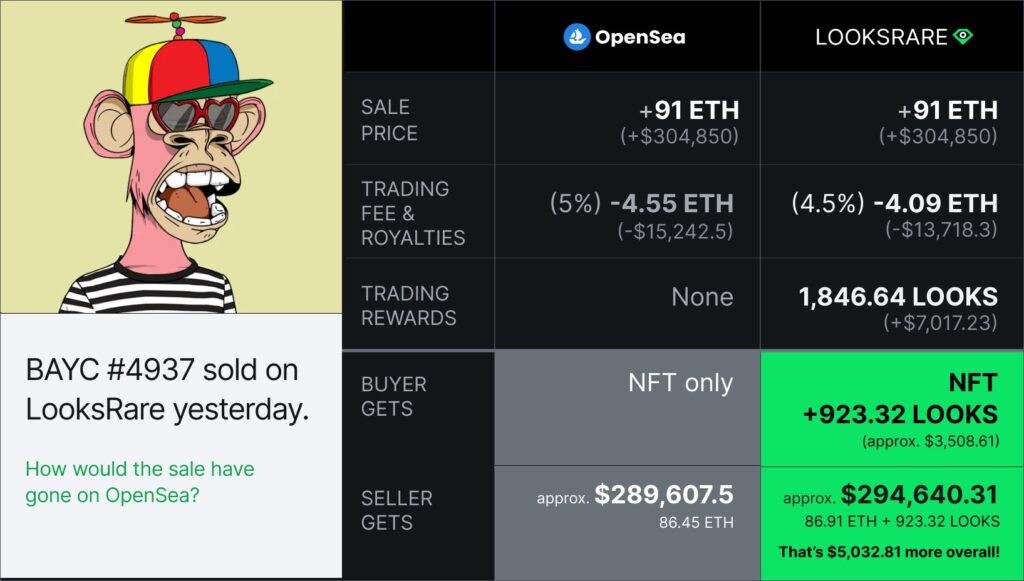 LooksRare: An established strategy to win the market
The platform rewards NFT creators, collectors and traders for their participation. When it comes to actually this reward, LooksRare ranks first among the platforms rewarding participants in the NFT sphere.
LooksRare has left no stone unturned! Its Meebits collection is also attractive, which is definitely the aspect that caught the attention of many users. Thanks to Meebits, the platform has 3D avatars and users can see them in real time.
As another point of interest, we can note the Bored Ape Yacht Club which offers offers at 75 ETH each. You can indeed "trade all Ethereum NFTs" present on OpenSea and even others that are not there. At least that's what was stated on the LooksRare site.
The launch of LooksRare's activities was a complete success. The vampire attack plan has been prepared for a long time. However, the plan might not have been so successful had the platform not opted for a low fee policy. In addition, options such as avatars offered to users have also contributed to the large number of people joining the project.
They were not disappointed with the offer proposed by LooksRare. Indeed, three days after its launch, the company's turnover amounted to 394 million dollars. This figure confirms the explosive sales of 100 million dollars achieved on the first day. The good results continue and it does not seem to want to stop in the near future.
Erica Masson
Passionate about stock market trading and crypto-currencies, I work on writing articles on the subject in order to share my experience and inform at the same time. Because I am convinced that crypto-currencies open up perspectives that everyone should experience.