As part of an official state visit, the Turkish President hosted the President of El Salvador, Nayib Bukele. And to believe some, it could be that the two politicians discussed the use of cryptocurrencies and the impact that this can have on the economy of their country. At least that's what many hoped. Unfortunately, it seems that cryptocurrencies were not on the agenda.
For those who believed that bitcoin (BTC) would be at the heart of the debates between Recep Tayyip Erdoğan and his Salvadoran counterpart Nayib Bukele in the capital of Turkey, the disillusion was total. Indeed, BTC was not on the agenda. However, that hasn't stopped the rumors on Twitter from flowing freely.
As part of the state visit, Bukele and Erdoğan began with an official ceremony. Shortly after, they inaugurated the new embassy of El Salvador before agreeing on six agreements covering the economy, trade, defence, diplomacy and education. No cryptocurrencies in the discussion point! Several media had expected digital assets to enter the debates, but this was not the case.
The agreements concluded between the two countries aim to bring the trade volume between El Salvador and Turkey at 500 million dollars in five years. Trade volumes for 2020 and 2021 were $27 million and nearly $50 million, respectively.
Fake bitcoin (BTC) publications
Before the meeting between the two presidents took place, there was a lot of speculation on the Internet, especially on Twitter. For example, fake accounts were created with the aim of saying that Turkey would announce the integration of bitcoin (BTC) into its economic circuit by February 2022, which, of course, is not true.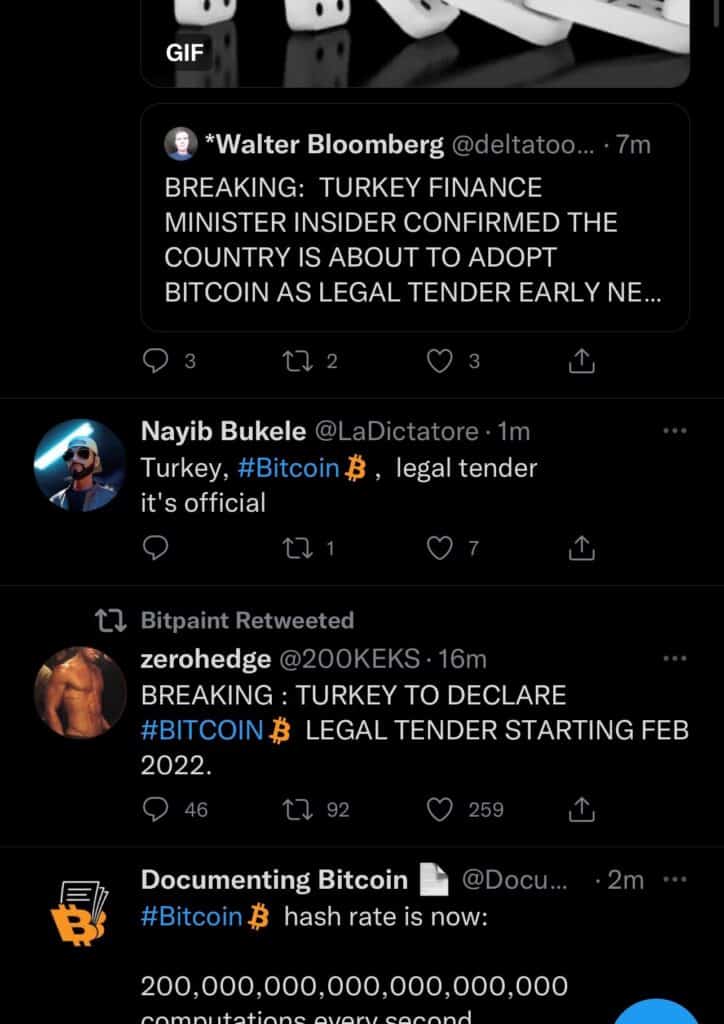 In the hours following the fake news on the social network, several people began to invest in cryptocurrency. It is thanks to this that bitcoin (BTC) saw its value go up to 43,000 dollars before dropping back down to $38,000 in the early morning.
As the Turkish lira continues to struggle, analysts expected Bukele to make the case for bitcoin (BTC). But everything suggests that this has not been the case, since since this meeting between the two heads of state, no publication has been made in favor or against cryptocurrency.
Source: Cointelegraph
Receive a summary of news in the world of cryptocurrencies by subscribing to our new daily and weekly newsletter service so you don't miss any of the essential Cointribune!
Luc Jose Adjinacou
Far from having dampened my enthusiasm, an unsuccessful investment in 2017 on a few cryptos only increased my enthusiasm. I therefore resolved to study and understand the blockchain and its many uses and to relay with my pen information relating to this ecosystem.