The world of NFT is constantly evolving and improving. With the immense popularity acquired by the metaverse, each creator aims for an innovative project that stands out from all the others. Monster galaxy is one of those projects in perpetual development. With many games to his credit, he is nevertheless preparing a new stage in his evolution: a game following the NFT model.
what Monster galaxy ?
Monster galaxy is a mobile game designed and produced by Gaia Online. Launched on February 18, 2003, the platform is one of the largest Japanese anime platforms in Canada and the United States. After winning numerous awards and making an appearance in The Timesin the list of the 50 best sites, Gaia Online released in 2012 the game Monster galaxy.
Very quickly, this game gained popularity and was a huge success. When it launched, the game was simply titled Monster Galaxy: The Zodiac Island. But quickly, the platform released two more games that captivated many players across the globe. Speaking of many users, these are over 25 million users who play this game.
Always in search of development, the company based in San Jose, California is preparing a new chapter in its evolution: Monster Galaxy P2E.
Monster Galaxy P2E , the new Gaia Online mobile game
Monster Galaxy P2E is GAIA CLUB's very first game to integrate blockchain technology. Scheduled for March 2022, the platform plans to release the beta version of the game next February. Exciting game inspired by Monster galaxyand of Pokemon , it features sensational special effects, a soundtrack from the band Treat and Jeremy Soule, but most of all, epic monster battles that will suit video game fans.
First NFT game launched by GAIA CLUB, the game Monster Galaxy P2E is expected to own approximately 1 billion Galaxy Gem tokens with a valuation of $ 20 million for private sale.
Monster Galaxy P2E is a game of fighting and taming creatures. The game takes place in a universe populated by creatures called Moga. Users must capture, subdue, and pit the Moga against each other in combat. But to win the battle and win the most difficult fights, players can make use of bonuses and special items.
To evolve in this ruthless universe, players must form teams made up of tame Moga in order to face and defeat their enemies. This game turns out to be interesting thanks to new encounters with fan favorite characters as well as new monsters for even more surprises.
In this new game, each Moga functions as an NFT and can be freely exchanged for Galaxy Gems (GGM) tokens. Users will therefore be able to decide to wager their GGM tokens in order to obtain rewards and wagering privileges. But above all, you have to win them!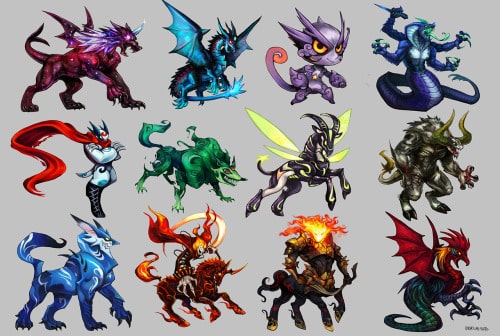 Obtaining GGM tokens can be done in several ways. You can either reserve your ticket, buy it in public sale or in private sale or play to win. However, the greatest percentage probably goes to gambling.
Monster galaxy being a game that follows the business model, you can play, collect and earn tokens. This model based on the concept of open economy offers benefits to users who in turn enrich the gaming world through their participation.
By fighting monsters and other players, users have the opportunity to earn Galaxy Gems tokens. These tokens offer many advantages. Among other things, they allow you to buy additional energy and slots in the game and have the particularity of being able to be traded on the open market.
Collect Moga. These are pets Monster each representing a unique NFT. Each NFT can be redeemed on the GAIA CLUB marketplace, in the game's virtual store or in any other NFT market. However, the improved Moga do not have a price on the open market.
These Moga are classified into 7 levels of rarity. In particular, the beginner, common, uncommon, rare level as well as the super rare, epic and legendary levels.
How to win? Integrate the game! Meet and capture Moga, then all you have to do is play, collect and win!
Selling price of the NFT Moga
This new game from Gaia Online promises many surprises and lots of benefits. So if you want to be part of the adventure, you can integrate the adventure and embark on the discovery of this new universe. In addition, you can purchase the Genesis Moga following the blind box sales prices:
– SUPER RARE MOGA : 50 dollars the NFT;
– EPIC MOGA: $ 200 per NFT;
– LEGENDARY MOGA : 500 dollars the NFT.
The new game from GAIA Online, Monster Galaxy P2E,differs greatly from other games on the platform. The first game to integrate GAIA CLUB's blockchain technology, its launch promises a turnaround for mobile gaming enthusiasts. With a rather exciting operation, you are not likely to get bored in this fantastic universe. For more information on the new NFT releases, go to here.
Erica Masson
Passionate about stock market trading and crypto-currencies, I am working on writing articles on the subject in order to share my experience and inform at the same time. Because, I am convinced that crypto-currencies open up perspectives that everyone should experience.