Every week and every day, new projects are pouring into the financial market. From crypto projects to NFT projects, each creator aims to create a work that will make an impression and place him at the top of the ranking in his field. During New Year's week, many NFT projects stood out with their high price on sale. Find out below what these projects are as well as the NFT projects up to date during the week.
Most Expensive NFT Sales During New Years Week
During New Years week, many NFTs were sold. From the best known to the less famous, each project has found a buyer. However, others still fall into the most expensive category because of their selling price.
Bored Ape Yacht Club
At the top of the ranking of the most expensive NFT bestsellers of the week, the Bored Ape Yacht Club, or the "Club nautique des singes ennuyés" in French, is on the first step thanks to its relatively high price. The collection, which last week took a few less places, shows its evolution and importance at an unbeatable price.
283,000 dollars! Indeed, it is the unit price of NFT Bored Ape Yacht Club. With more than 75 million trading volume, this collection is going well. Her growing stats are proof that she wants to reach the top and is making good headway towards her goal as the NFT has sold 266 times in the past 7 days.
In addition, the Bored Ape Yacht Club integrates the top 10 of the best sales of the week with two NFTs. Eh yes ! What to be proud of, because today, these NFTs already belong to more than 6,000 owners who use them and do what they want with them. There is no doubt that with the 10,000 non-fungible tokens in circulation, these NFTs could attract even more buyers in the coming weeks.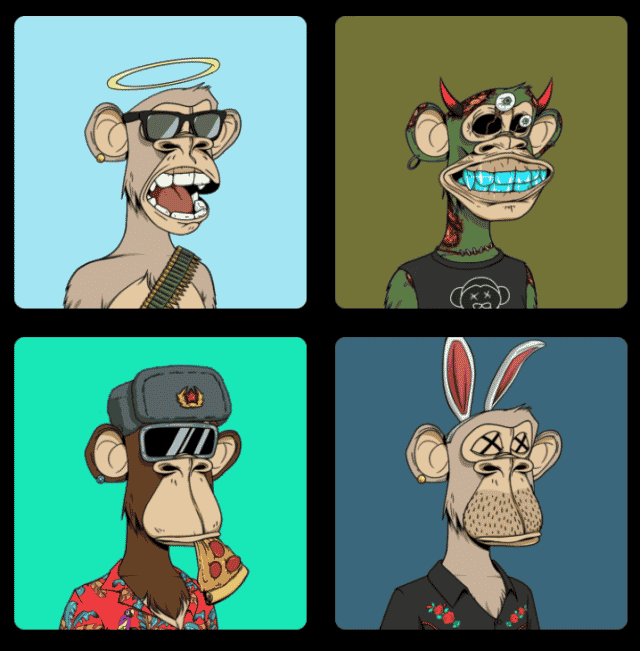 CryptoPunks
Sold 118 times in the last 7 days, the NFT collection CryptoPunks Rises to second in the ranking of the most expensive NFT sales this week. The collection launched in 2017 continues to attract many people wanting to have their own personalized NFT or to evolve in this field.
The rather popular collection, which has been featured by famous international magazines, acquires a new member every day and expands its community. Today, more than 3,000 people hold the token CryptoPunks which sold this week for $ 267,000. The token with the particular characteristics did much more nevertheless since 10% of the highest sales hover around 396,000 dollars or more.
The peculiarity of this NFT which continues to gain in popularity certainly lies in the characteristics of its designs. With its 9,999 tokens in circulation, the collection remains available in case you want to join the project. Through its ever-growing community, the NFT collection CryptoPunks is certainly one of those collections that undoubtedly have a future.
With 3 NFT ranking sold at wholesale prices, CryptoPunks can boast of being fairly well rated, as its sales prove that it deserves its place in the financial market and in the metaverse.
Bored Ape Chemistry Club
the Bored Ape Chemistry Club or "Bored Apes Chemistry Club" is a NFT collection that is enjoying a bright future. Since last week, the NFTs of this collection have been maintained in the ranking of NFTs sold at the highest prices. This week again, the collection enters the ranking of best sellers with its NFT Mega Mutant Serum.
Well yes ! Apparently we haven't stopped hearing about this NFT collection. Mega Mutant Serum in itself is already a real phenomenon. On OpenSea, the NFT breaks all records and continues to impress followers of the metaverse and NFTs in general.
The number of NFTs sold this week is 167 and with just 3 tokens the NFT is now owned by approximately 1,267 owners. Unlike last week, NFT has seen strong growth as its price has literally doubled. In the last 7 days, the average price of Mega Mutant Serum was from 137,000 dollars. Its exchange value is around $ 22 million with 167 NFTs sold.
This is a good example of evolution given the complexity of the universe around which the NFTs evolve. Thus, each week brings its share of surprises. The NFT which until last week did not even reach 100,000 dollars is passing a new course these days. Hopefully its rise will keep an increasing curve in the weeks to come.
Recap of the 10 hottest NFT collections of the week
Knowing the NFT bestsellers is great, but knowing the up-to-date NFT collections is better, in case you want to finally take action and treat yourself to one of the NFT trends of the moment. To help you and better guide you when taking this step, here are the top 10 NFT collections updated during the week.
Mutant Ape Yacht Club
the Mutant Ape Yacht Club wins one more place and climbs to first place in this ranking. Sold more than 1,900 times in the last 7 days, the collection representing bored monkeys is entering a new category. The "Club nautique des singes mutants" in French is a collection with around 17,600 tokens in circulation.
So the NFT that can only be created by exposing a bored monkey to a vial of Mutant Serum was selling for the last 7 days for around $ 52,000. So, if you want to take the plunge, here is a project that maybe can meet your expectations.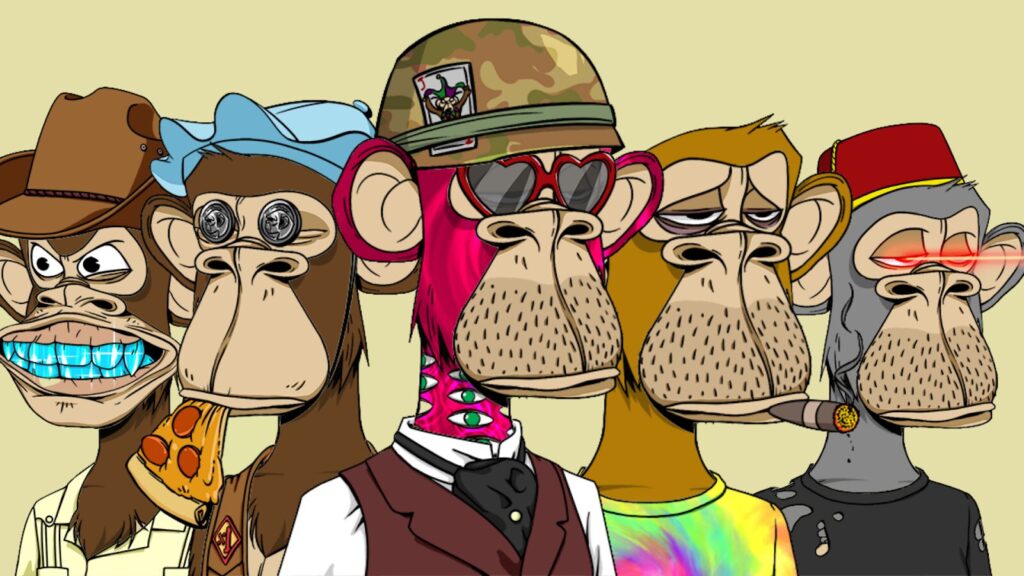 Bored Ape Yacht Club
the Bored Ape Yacht Club loses one place and takes second place in the best collections of the week. However, that does not mean that it deserves less attention. Indeed, the NFT which sells for 283,000 dollars has sold 271 times in the last 7 days, enough to attract attention.
Designed on the Ethereum blockchain, the NFT collection of the "Bored Apes Club" remains available to everyone if you ever want to embark on this adventure which, it seems, will last over time.
Bored Ape Chemistry Club
As every week, the classification of up-to-date NFT collections reveals surprises. Well this time it's the Bored Ape Chemistry Club (" Bored Apes Chemistry Club ») Which joins the third place of this list. That's a pretty surprising thing when he was in sixteenth place just a few days ago. Its explosive progression is undoubtedly proof that it is a collection more and more adored by buyers.
So if you decide to get into NFTs, the Bored Ape Chemistry Club will likely be an interesting project this week. With $ 137,000 you can become the proud owner of an NFT from this collection.
Bored Ape Kennel Club
The "Bored Apes Kennel Club", or Bored Ape Kennel Club in its original name, is an NFT collection that highlights dogs who keep monkeys company. Although this image may seem funny, the fact remains that it appeals to enough people to rank fourth in the NFTs so far for the week.
With over 17 million trading volume, the NFT which sells for nearly $ 20,000 is owned by over 5,000 people. As you can see, the collection looks set to reach the top.
Collectibles Mirandus VOX
The VOX or collectibles Mirandus VOX is an NFT collection from Gala Labs. In fact, it is a collectible series that allows you to acquire, play and earn lots of rewards with your ERC721 avatar. Like all NFTs, this collection features unique avatars that you can use as needed.
In recent days, an NFT was selling for almost $ 29,000 and totals over 10 million trade volume in 7 days. With nearly 8,147 tokens available, these NFTs remain a possible investment if you want to integrate the metaverse and opt for non-fungible tokens.
Prime Ape Planet
Prime Ape Planet is the NFT project that gives you the opportunity to leave your mark in the metaverse. What is that ? the Premium Apeis an Ethereum based NFT. Still called Primus , this mammal, a monkey, is similar to others that already exist.
But if you think you are fed up with monkeys, the latter offers you some new features that clearly set it apart from the rest. Therefore, whatever the activity for which it is requested, your monkey appears completely in its 3D form thanks to its power of adaptation. In the past 7 days, the NFT has sold for around $ 5,200 with a trade volume of over $ 31 million.
NFT Worlds
The NFT Worlds Where NFT Worlds is a project of the metaverse which aims to be flexible and efficient. In the last 7 days, one NFT in the collection was selling for almost $ 9,000 with a trade volume of over 8 million.
These NFTs, held by more than 4,500 people, are forging a place in a fairly competitive and tight world.
Alien frens
The NFT collection Alien frens is gaining more places thanks to its rather encouraging characteristics and statistics. This community collection has 10,000 randomly generated NFTs. Based on the Ethereum blockchain, this NFT project is keen to create the largest group of Frens of the metaverse by offering enticing opportunities.
Among others, an invitation to IRL events such as comic book launches, invasions and many more and a lifelong friendship with 10,000 others Frensby purchasing an NFT Alien fren . With a price hovering around $ 1,811, you can afford it if ever the project tempts you.

My Pet Hooligan
My Pet Hooligan is a utility NFT collection that is full of many pluses. Built on the Ethereum blockchain, this NFT project features 3D characters that can eventually serve as unique playable characters as you wish.
In the last few days, its value hovered around $ 4,300 with a trade volume of over $ 8 million for 2,044 NFTs sold. The collection that hopes to release a beta version by the first quarter of 2022 continues to slowly climb.
Worldwide Webb Land
The collectionWorldwide Webb Landis an NFT project designed as a pixel art MMORPG metaverse game that can be used by popular NFT projects. For $ 3,272, treat yourself to an NFT coin that accumulates over $ 3 million in trading volume in 7 days.
So you can join the 4,626 owners of this NFT and do whatever you want with it. This game using the NFT gives the possibility of having your own lands, pets as well as your avatars.
NFTs are attracting more and more people to the metaverse. With this list of the most expensive NFT auctions as well as a brief recap of the up-to-date NFT collections, you will be able to better follow the evolution of the many projects that are flocking and choose the one that suits you best. It is a fairly complex universe which can sometimes be difficult to assimilate and take in hand. To always have more information on NFTs and everything related to digital projects, you can simply click on the link below.
Erica Masson
Passionate about stock market trading and crypto-currencies, I am working on writing articles on the subject in order to share my experience and to inform at the same time. Because, I am convinced that crypto-currencies open up perspectives that everyone should experience.