On Tuesday, the Uniswap community celebrated an impressive milestone, as the protocol surpassed a lifetime cumulative trading volume of $1 trillion.
A record for Uniswap
Uniswap, which was launched as early as November 2018 as a modest start-up by former Siemens AG employee Hayden Adams, emerged as a cryptocurrency giant in 2020 due to the decentralized finance (DeFi) boom. While decentralized order book-based exchanges have failed to take off in the past, Uniswap has established itself as a strong competitor to centralized market leaders such as Binance, Huobi, and Coinbase.
In September 2020, Uniswap distributed free tokens to its users, sparking even more interest. You have chosen Uniswap for our analysis of May 18, find all the information on the project and the token here.
The company has, however, come under heavy criticism for promoting gambling, Ponzi schemes and money laundering. Unlike traditional exchanges, Uniswap does not verify the identity of its users.
Last month, it was also the subject of a class action lawsuit for failing to prevent the proliferation of fraud and encouraging the creation of countless fraudulent tokens. Uniswap claims that this lawsuit is full of "inaccuracies".
Three and a half years later, the protocol has seen over a trillion dollars in volume. This record was announced on twitter directly by the company.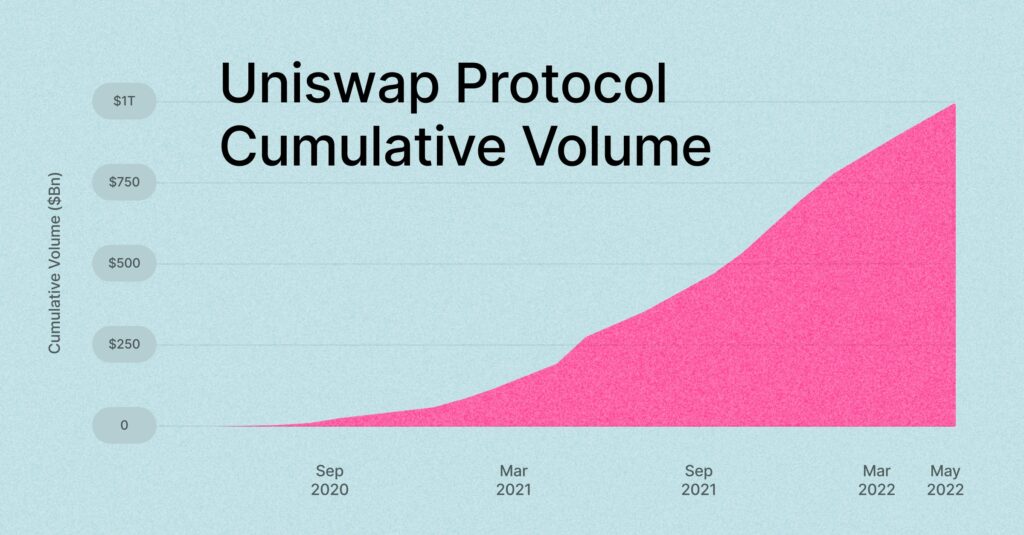 Uniswap currently posts a daily volume of $1.4 billion, which is three times more than its nearest competitor, PancakeSwap ($500 million), and 19 times more than the second largest decentralized exchange on Ethereum, SushiSwap (71 millions of dollars). It reached a record daily volume of $8.8 billion on November 10, 2021.
Uniswap's daily trading volume is at a similar level to the centralized exchange Coinbase, but significantly lower than Binance. However, Uniswap considers itself better than these platforms in the "liquidity game".
Uniswap's highest TVL ever was $10.5 billion on December 1, 2021. It hovered in the range of $6-8 billion TVL until the market crash caused by the Terra collapse on May 7.
Despite these impressive metrics, the protocol's market capitalization has been on a steady downward trend for over a year. The all-time high of Uniswap's fully diluted market capitalization was $33.3 billion at the beginning of May 2021, and its UNI token reached $42.33. Today, its fully diluted market cap is $5.3 billion, and its token price is $5.49.
However, the Uniswap community was not deterred by the downward trend in the market. On May 23, it voted almost unanimously to launch the protocol on two other blockchains, Gnosis Chain and Moonbeam Network.
Uniswap is therefore celebrating this impressive result despite the bear market very strong blowing on cryptocurrencies at the moment. Decentralized exchanges are also the source of many debates and Uniswap is one of the most important players in this universe.
Receive a digest of news in the world of cryptocurrencies by subscribing to our new daily and weekly newsletter service so you don't miss any of the essential Cointribune!
Alexis Patin
Passionate about geopolitics, economy, cryptocurrency, Eurasia and travel! (as far east as possible), crypto-trader for 4 years.